KIDNEYS AND TRANSPLANT GIFTS

"In this post I want to highlight Myra Schwartz from Chicago and her business offering kidney and other organ transplant gifts. I met Myra 5 years ago online on eBay as she was perusing my listings for anything resembling kidneys. While we talked I learned that Myra was a kidney donor recipient. She explained to me that this gift of life often develops into a strong bond of friendship between donees and their donors. Myra wanted to express her gratitude to her donor with a gift but she couldn't find something special. And from that realization a business was born.
Soon we were talking about her ideas for custom designs and of course we were happy to work with her to bring them to fruition. Over the years we have collaborated on many of her designs. Below is an example of a piece based on her sketches that I am particularly proud of as it applies traditional Balinese scrollwork to a beautiful kidney inspired design.  The collage below shows elements of the design process from various concepts to a finished piece.
Myra just opened her new online store. I invite you to visit her website TransplantGifts.com. There you can read her story and view and shop her creative and unique designs. You can also follow her on Facebook at www.Facebook.com/TransplantGifts"
Posted by Mark at Fifirose.com on October 15, 2017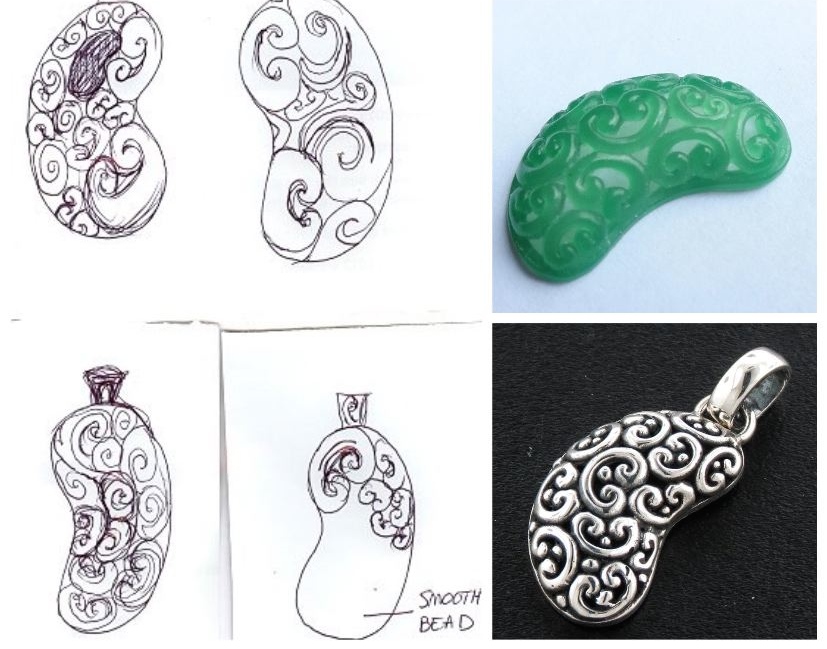 SaveSave
SaveSave
SaveSave
SaveSave
SaveSave